Cycling Events WEBSITE DESIGN
Website Redesign for Velo29 Cycling Events.
Client:
Velo29 Events
Skills:
Web Design
Steve is superb to deal with and nothing seems too much trouble. Both website and graphic design top notch with ultra fast lead times. Could not recommend enough.
James Sullivan – Velo29 Events
I have been handling the Velo29 Cycling Events Website Design for many years now, which meant that the old site's infrastructure and code was not as streamlined or user-friendly as it could be.
As online technology changes at such a rapid rate, it is often necessary to redesign an old website using all the latest tools and techniques. This was a great chance to make the website even more beautiful than it was before and to improve its interactivity and responsive behaviour (for mobile & tablet devices).
The new website redesign was also done to improve the speed of the site (both front and backend CMS), by streamlining the code and cleaning up any redundant features. Running such an extensive site for a long time, results in all sorts of extraneous code which can slow down the site and even cause some conflicts, so it's a good idea to always keep abreast with the latest techniques.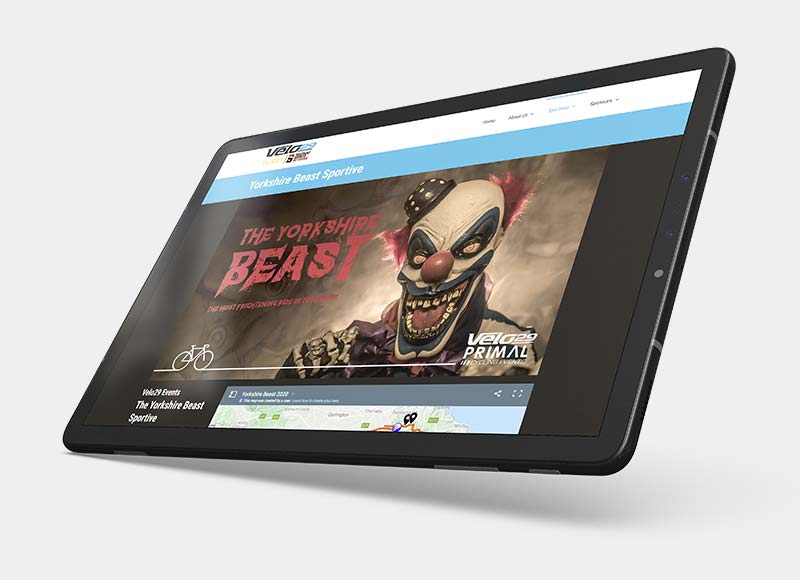 Key Features of the Site Redesign
A more expansive viewing area for larger screens and retina displays.
Enhanced responsive layouts and device interactions.
Responsive typography that intelligently scales according to the device it is being viewed on.
Flex layouts implemented for intelligent reordering of page elements for better mobile website layouts.
Integrated podcasts, so that all episodes can be listened to directly on the website.
Live GPS tracking for support vehicles during ongoing sportives.
Custom page design based on each event colour scheme and styling.
Custom menus are loaded, according to the device screen size, for better usability.
Streamlined backend CMS (Content Management System) of the site for quicker, smoother updates.
Implemented a very intuitive page editor that allows for live page editing and easier user-managed site updates.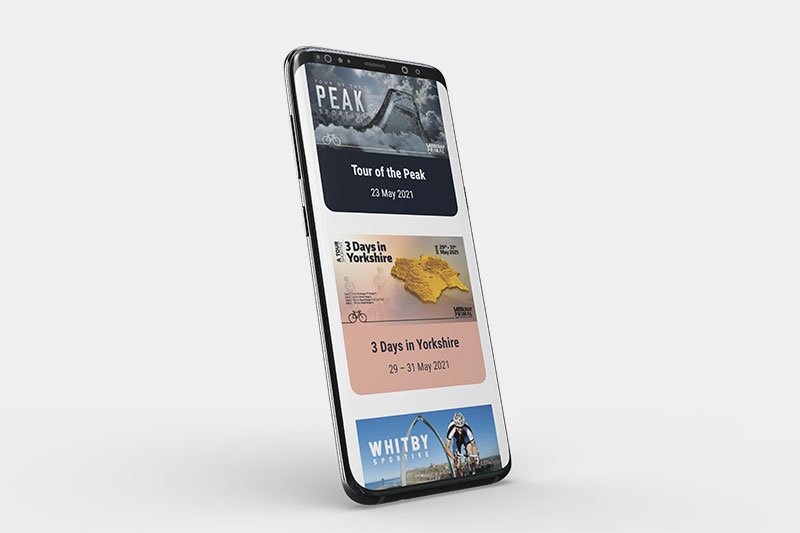 Cycling Events Website
Take the New Cycling Events Website for a Test Ride in this Video.
Sportives Webpage Design
The main cycling sportives page lists all the current events in a clear and easy to use layout, while highlighting each event's colour schemes and branding, so that when users click through they immediately recognise and can find all the information they need.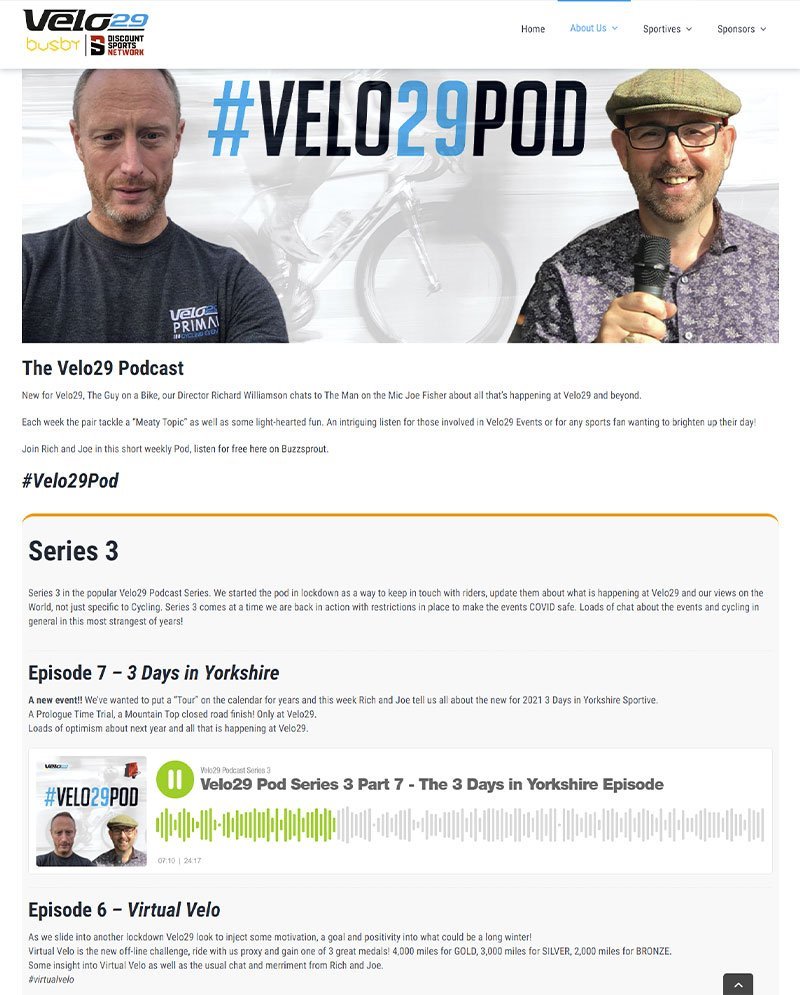 Podcast Integration
Each cycling podcast episode can be accessed and listened to directly from within the Velo29 website. This allows users to choose which episodes to play, and gives them easy access to find any events that have been highlighted in the podcasts, without having to load another system or website.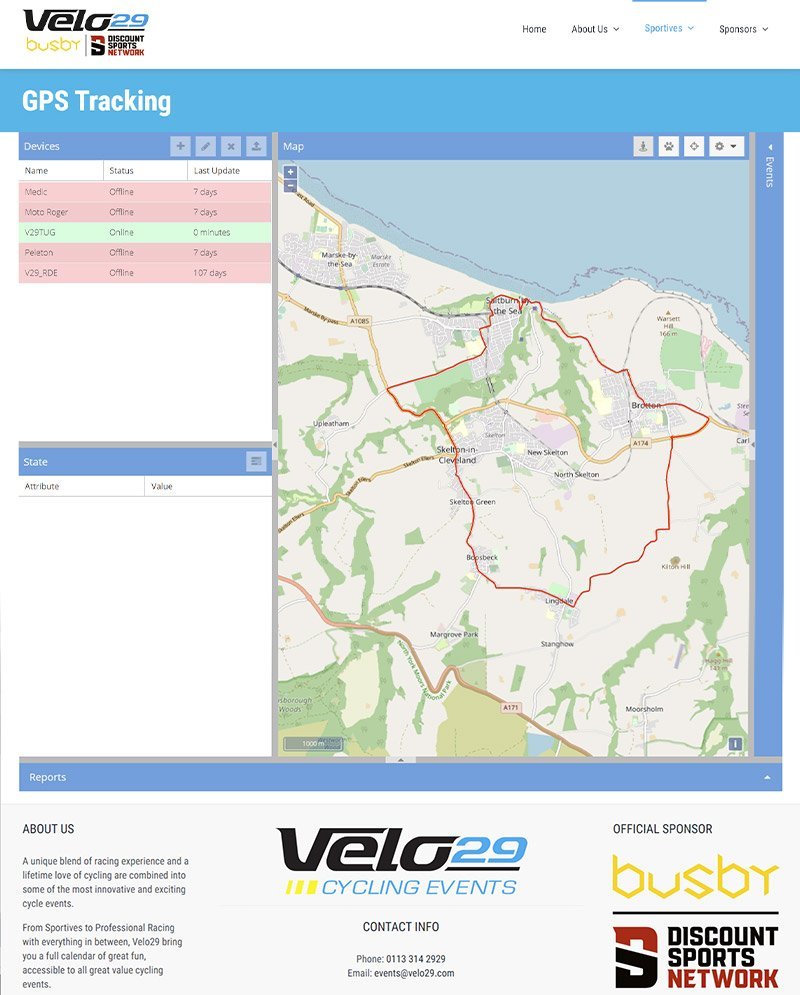 GPS Tracking for Live Events
Having direct GPS tracking for sportives during Velo29's live events, allows the team to keep track of support vehicles and manage any issues proactively to ensure the seamless running of their events. Even the riders can access this system directly from within the website to see what's happening firsthand.
Custom Webpage Design and Layouts
The new site's CMS allows much more customisation on a page level, so that every page can use custom colour schemes and it's own breakpoints and ordering of responsive elements. This allows for smart layout changes and ensures smooth running & enhanced accessibility when switching between devices.
Want to share this? Go for it!
Client:
Velo29 Events
View other Velo29 cycling sportive designs.
See other designs I have done for Velo29 Cycling Events.
Click the images below to view the other projects.